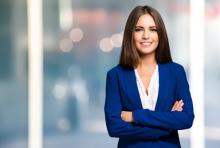 MBA students want to learn the skills they'll need to be effective business managers. They study accounting and finance, sales and marketing, production and operations, human resources, and many other topics. But today, analytics skills have become essential for higher-paying management roles in most organizations.
The availability of data is driving an interest in analytics throughout the business world. That makes it important that MBA students gain experience with these analytics techniques. Whether they're preparing for their first professional job, or they've come back to school after some time working, this is knowledge they need in order to manage effectively — to make decisions in our modern data-driven business world.
For instance, Dr. Cliff Ragsdale, a business information technology professor at Virginia Tech's Pamplin College of Business, teaches a survey course wherein MBA students learn about different kinds of analytics, so that they'll understand how these methods are applied across all the functional areas of a business.
Here are five analytics techniques that MBA students will learn, that they're sure to apply in their future work:
1. Descriptive analytics
Descriptive analytics – the use of basic statistics, exploratory data analysis, and data visualization – takes the collected data of a business and summarizes, "slices and dices" that data to gain insights about what has happened.
Descriptive analytics is often the MBA student's first step on the journey of analysis. They learn how to display data in such a way as to be meaningful, and use that data to make informed statements about the status of their companies at any given moment.
For example: Profit was flat in the third quarter, when some growth was expected.  But why?  Drilling down, we see that sales of our highest-margin products were down in the Northeast, while lower-margin sales were modestly up.  Asking the Northeast sales manager, we learn that her sales rep most knowledgeable about those high-margin products was on vacation in the busiest period. These are the kinds of questions MBA students are expected to answer, and where descriptive analytics comes into play.
2. Predictive analytics/data mining and forecasting
Predictive tools allow business analysts to use data to help predict what will happen — not just in aggregate, but for every product line, every store and every seasonal period. In this stage, analysts use data mining and machine learning techniques to "train" models on historical data, then apply those models to new cases.
For MBA students, it's important to learn about predictive analytics and what kinds of problems these techniques can solve.
"One of my main goals with MBA students is to help them build a framework that they can retain and use in the future when they bump into different problems," Ragsdale said in an interview. "To choose the correct modeling tool you have to understand what the predictive modeling techniques are."
3. Optimization for resource allocation
In many businesses, resources are allocated via "gut feel", or "the way we've always done it".  MBA students learn that situations like this often represent golden opportunities for improvement. In a 2014 paper published in Management Science, researchers at the Massachusetts Institute of Technology used analytic tools, including a stochastic mixed integer program, to determine the optimal resource allocation for a multi-state gas utility company.
These lessons have real-world significance in the students' lives. Ragsdale noted that one of his MBA candidates learned the ropes of Excel spreadsheets and Solver tools and, in the next week, was able to save his company an estimated $1 million. As remarkable as it sounds, this isn't such an extreme case. It just goes to show the powerful uses of analytics tools when placed in the hands of business professionals who have been taught their true worth.
"It's critical for students to grasp the benefits of knowing analytic techniques."
4. Simulation/risk management
This part of analytics deals with uncertainty and risk. For instance, students in Ragsdale's class use Monte Carlo Simulations and spreadsheets to determine the cost of employee health care in a company, during a year-long period when individual illnesses and accidents are uncertain. This helps them visualize how this technique can be used in the real world to determine real consequences.
These applications are crucial to understanding how these tools can be utilized in a business setting. According to Dr. Stephen Powell, a professor at Dartmouth University's Tuck School of Business, it's critical for students to grasp the benefits of these techniques. Some of his students, for instance, do an analysis on Netflix stock using risk simulations.
"We go through the standard sensitivity analysis, and then we introduce simulation," Powell said in an interview. "We introduce uncertainty in some of the assumptions, and then we show [in this case] just how uncertain the stock value really is. Most people in business don't know how to take uncertainty into account and we're teaching regular MBAs how to do it."
5. Analytics and Big Data
The term Big Data tends to be thrown around when there is a lot of information to be collected and analyzed. However, there is a distinct difference between "a lot of data" and "Big Data."
Big Data is characterized by volume, variety and velocity, and usually requires multiple computers and special software for its analysis. Fortunately, teachers like Dr. Ragsdale and Dr. Powell have access to an Apache Spark Big Data cluster to give students hands-on practice with these new techniques. MBA students who understand this difference will be in a better position in the long run as valuable members of their teams.
Gary King, professor and researcher of note at of Harvard University, is quoted as saying: "Big Data is not about the data." By this, he means that simply collecting information isn't enough the real value in data lies in how you analyze it.
"The Big Data revolution is that now we can do something with the data," King explained to Harvard Magazine's Jonathan Shaw.
The same goes for MBA students who want a taste of analytics. How they are introduced to analytics will inform how they use these techniques for the rest of their professional lives. Analytics need not be a scary unknown — with modern analytic tools in Excel, conducting analyses and Monte Carlo simulations can be a rewarding experience that generates actionable information for decision-makers.